Fitness Savvy has compiled a list of the Best Treadmills For Home Use in 2023 and sorted them by category.
Whether you're looking for the best treadmill under $2000, the best folding treadmill, or the best compact treadmill, you will find the winners here.
Overall Treadmill Rankings
1
NordicTrack X32i
Overall Best Treadmill For Home & Best Incline Treadmill 2023
The new winner of our best treadmill award goes to the NordicTrack X32i for 2023.
It's both the best overall treadmill and the best incline treadmill.
And here's why:
If you want a challenging treadmill workout, you'll need a running machine with an incline setting.
Most treadmills now include incline options, with a typical range of 0 – 15%. We've sensibly rated the best incline treadmill based on the incline level – and the X32i is a clear winner at a whopping 40%.
In addition to the steep 40% incline, The NordicTrack X32i features a -6% decline setting.
As with all NordicTrack and ProForm fitness products, the X32i is iFit compatible.
An iFit subscription allows users to partake in workouts across stunning global locations with some of the world's best personal trainers. The treadmill will also automatically change speed and incline levels during training for added variety and intensity.
The 32-inch HD touchscreen is enormous and makes these interactive workouts highly enjoyable. And with thousands of workouts to choose from, cardio never has to be boring again.
The generous running surface of 22″ x 65″ is the largest we've ever tested – making it suitable for people of all heights. The mammoth 4.25 CHP motor is strong enough to power users of up to 300 lbs at 40-degree inclines at a top speed of 12 mph.
At 300 lbs, the maximum user weight is less than other options in our list (such as the Sole Fitness F80 and F85, which accommodate 375 lbs and 400 lbs, respectively). However, the motor needs to cope at such steep inclines, so a compromise is made here.
PROS:
Huge incline and decline options ranging from -6% to 40%.
NordicTrack is fast establishing itself as a leading treadmill manufacturer.
Large 32″ touchscreen.
Impressive range of interactive workouts.
Powerful 4.25 CHP motor.
Comes with great features such as powerful speakers, a sled bar, and fans.
CONS:
The price might put it out of some people's budget.
At 300 lbs, the maximum user weight won't be high enough for some people.
Key features of the NordicTrack X32i
Motor size: 4.25 CHP
Top Speed: 12 mph (22 km/h)
Rollers: 2.5″
Decline/Incline: -6% to 40%
Display: 32″ Full-Colour HD Touch Screen Display
Running Area: 22″ x 65″
iFit Compatible: comes with a 30-day trial subscription
Fans: dual auto-breeze fans
Speakers: dual 3-inch
Reflex cushioning: absorbs impact to protect your joints and back
EKG grip pulse: providing accurate readings on the go
Workout programs: 44 pre-set workout apps
Other features: sled bar and push grips
Max. user weight: 300 lbs
Product weight: 341 lbs
Dimensions: 76.5 x 40 x 73 inches (L x W x H)
Warranty: Lifetime Frame Warranty, 10-year Motor Warranty, 2-Year Parts & Labor upon warranty registration within 28 days of purchase.
Compare Prices for the NordicTrack X32i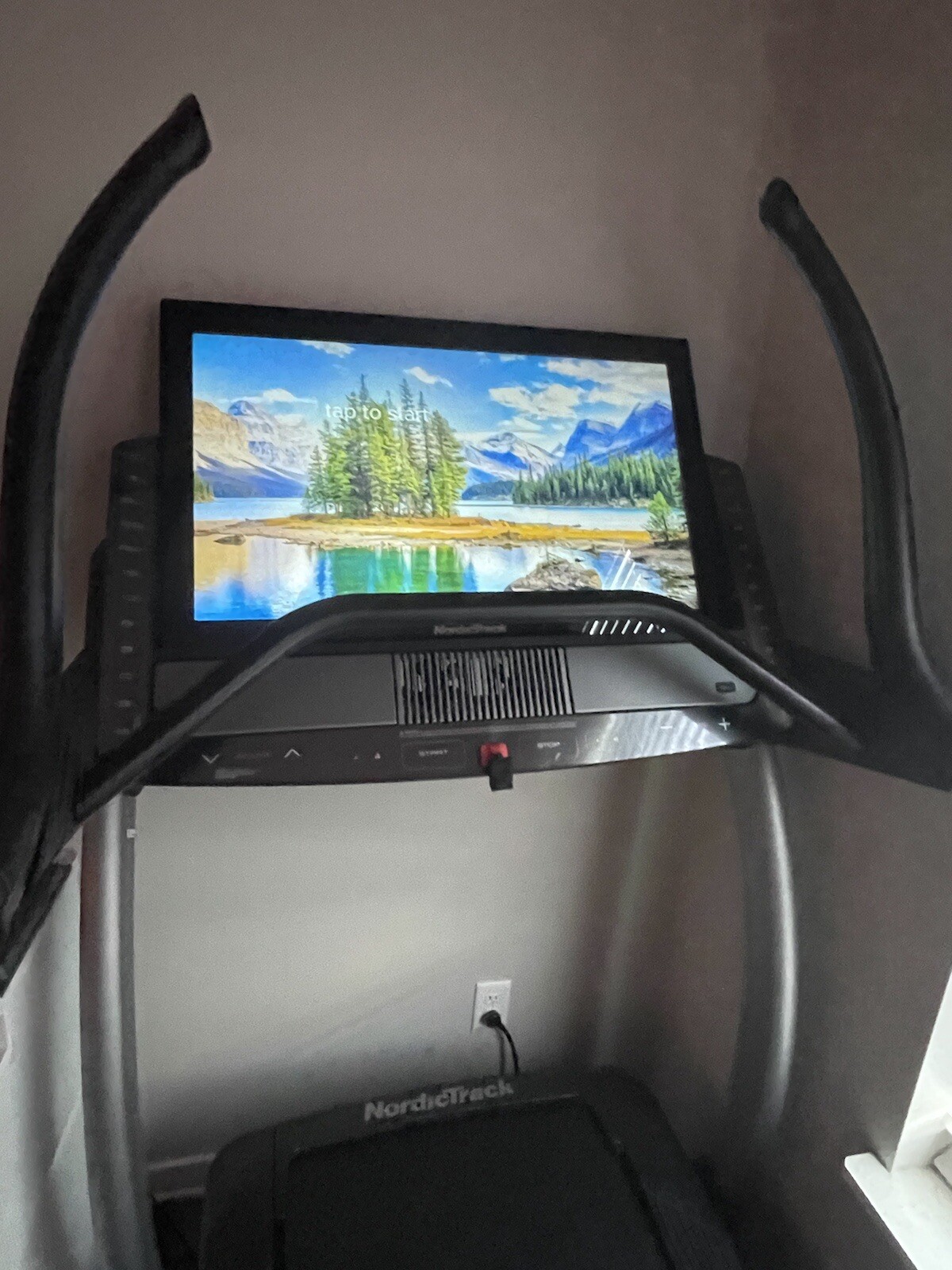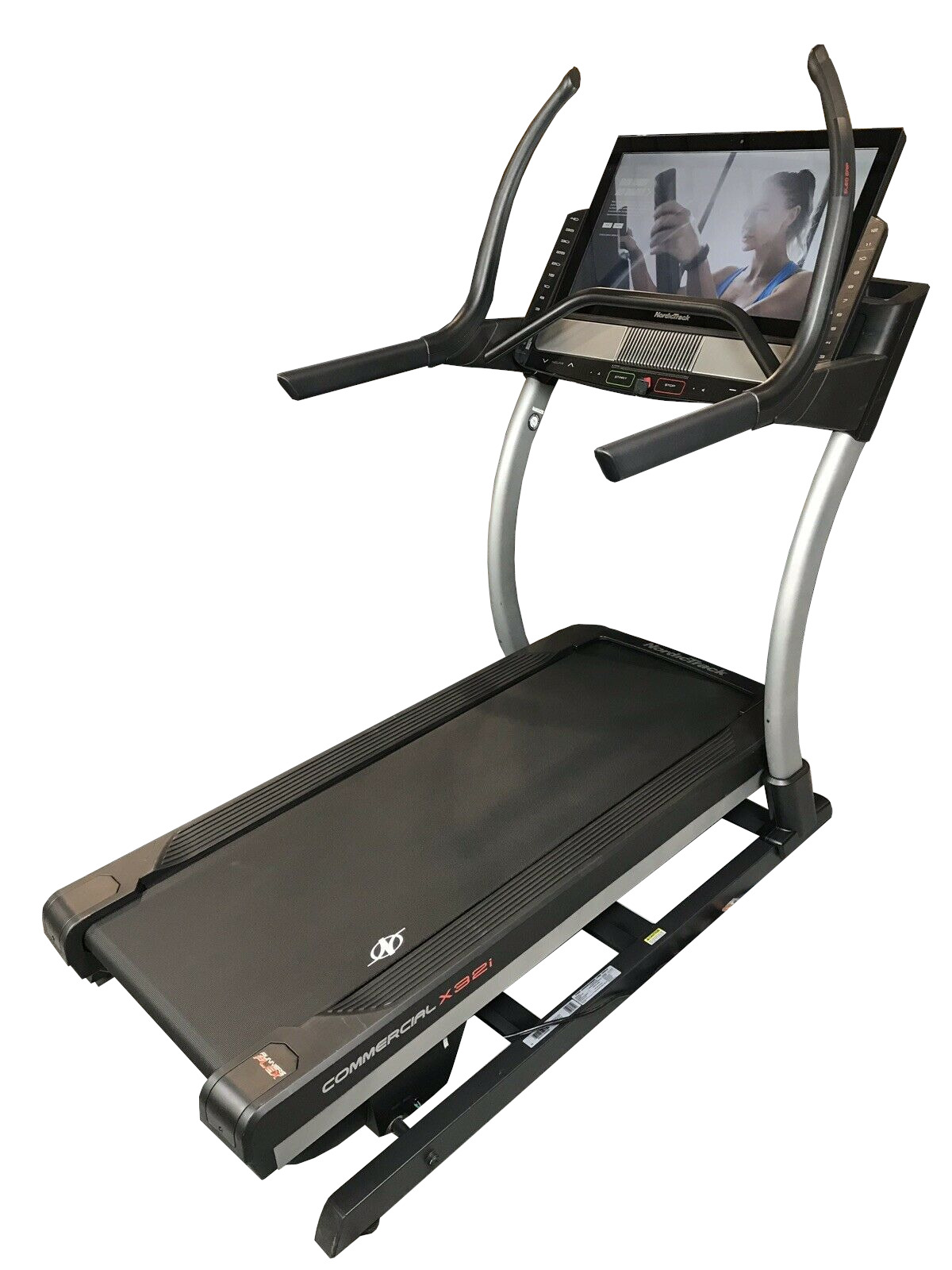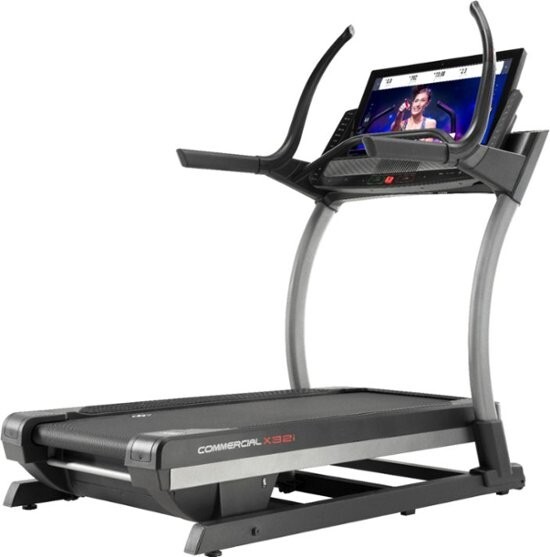 ---
2
Sole F80
Best treadmill Under $2,000
The Sole F80 running machine has been around for years and regularly wins "best treadmill" awards.
It has a powerful 3.5 CHP motor, a decent incline of 15%, and a maximum user weight of 375 lbs.
While a great option, it falls short of being the best overall treadmill due to its smaller running deck, less powerful motor, and lack of a decline feature. In addition, some customers slated the console, describing it as "dated."
Although the console might seem dated, the newer Sole F80 version features a tablet holder and is compatible with Studio – a great alternative to iFit.
The machine retails for several hundred dollars less than comparable NordicTrack and ProForm treadmills – so even if you needed to buy a new tablet, it still works out cheaper.
With all that said, one thing that stands out above all else – and one of the main reasons this running machine has made our Best Treadmill For Home guide is the fantastic warranty.
Sole Fitness back its products with an insane lifetime warranty on the motor, deck, and frame. This means you can rest assured if anything goes wrong with the machine.
PROS:
The large running area and heavy-duty design make this treadmill the perfect choice for taller and heavier individuals (over 6 feet tall, 350 lbs).
The powerful 3.5 CHP (continuous horsepower) motor makes for smooth and quiet operation. The high-power means that the motor does not overheat, which means greater durability.
One customer purchased this treadmill to prepare for mid-distance triathlons and rated this machine highly, praising the comfortable running deck, sturdiness, and quiet motor.
Excellent overall quality for a home treadmill, comparable to commercial-grade models in your local gym.
Industry-leading warranty – lifetime on the frame, motor, and deck – providing peace of mind and assurance.
CONS:
Several reviewers said a big drawback was that it was difficult to set up and complained that the instructions were unclear.
Some users thought that the control panel felt dated and there was a lack of entertainment options.
It is a large machine, so it might not fit in some people's designated areas.
Key features of the Sole F80 Treadmill
9″ blue backlit LCD monitor
Large 3.5 CHP / 5.0 HP Peak quiet drive motor.
Top speed: 12 mph
Running deck: 22″ x 60″ (59 x 152 cm)
Built-in speakers: 3.0 Audio Speakers, Bluetooth
Incline: 0 – 15%
18mm thick Whisper-Quiet running deck.
Oversized 1.56mm commercial quality running belt.
Heavier treadmill frame construction.
Bluetooth Connection
Max. user weight: 375 lbs
Product weight: 265 lbs
Dimensions: 208 x 93 x 145 cm (L x W x H)
Warranty: lifetime motor, frame, and deck; 5 years on electronics and 2 years labor.
Compare Prices for the Sole F80 Treadmill
$2,750.00
in stock
as of 26th September 2023 11:43 pm
---
3
ProForm Pro 5000
Best Folding Treadmill
ProForm Fitness might have lost the top spot for the best overall treadmill (with the Pro 9000 taking the title for 2022), yet they still produce a mighty fine machine.
For 2023, the Pro 5000 is still the best folding treadmill 2023.
While some Icon Fitness products (Icon Fitness owns NordicTrack and ProForm) have garnered negative feedback for customer service, the ProForm Pro 5000 mainly received praise. Some negative reviews are justified; however, some resulted from increased pandemic demand and global shipping issues. This means that the problems were not exclusive to these brands.
When calculating the Savvy Score, we consider what features to expect in a given price category.
For under $2,000, the Pro 5000 exceeds expectations for top speed, running deck area, incline percentage, and motor power. The only technical stat that lets it down is the maximum user weight. At 300 lbs, this is less than other options at this budget which accommodate 400 lbs.
If you need a machine with a max user weight higher than 300 lbs, you should consider the Sole F80, which allows 375 lbs.
PROS:
Most people who bought the ProForm Pro 5000 said it feels well-built, sturdy, and stable.
ProForm and NordicTrack products are popular due to their iFit connectivity. Many customers praised the iFit workouts, which automatically adjust the speed and inline as you work out.
The console is easy to set up and operate, according to most users.
The Pro 5000 is easy enough to set up with just one person; however, most reviewers recommend having two people do it.
Folding the machine away is easy and safe as it transitions slowly.
Fitness Savvy took account of top speed, incline %, feature, motor size, customer reviews, and running surface and determined this to be the best folding treadmill for 2022.
CONS:
Some customers have criticized ProForm's customer service or the retailer they bought from – in most instances, Best Buy was mentioned as being poor. For this reason, we do not include them in our comparison tables.
Some customers report misaligned screws that made the assembly trickier than needed.
Some users said that the internet connection for iFit kept dropping out – so make sure your internet at home can prevent this (high speed, not too far from the hub, etc.)
Key Features of the ProForm Pro 5000
Top Speed: 12 mph
3.75 CHP motor
22″ x 60″ running deck
10″ HD Touchscreen monitor
-3 to 15% decline/incline settings
2.5-inch balanced rollers
BLE heart monitor compatible
Integrated tablet holder
Workout fan
iFit enabled
MP3 connectivity
Foldable design
Max. user weight: 300 lbs
Product weight: 310 lbs
Dimensions: 205 x 98 x 190 cm (L x W x H)
Folded dimensions: 97 x 99 x 190 cm (L x W x H)
Warranty: 2 Year parts and labor, 5-year motor (parts only), Lifetime frame guarantee
Compare Prices for the ProForm Pro 5000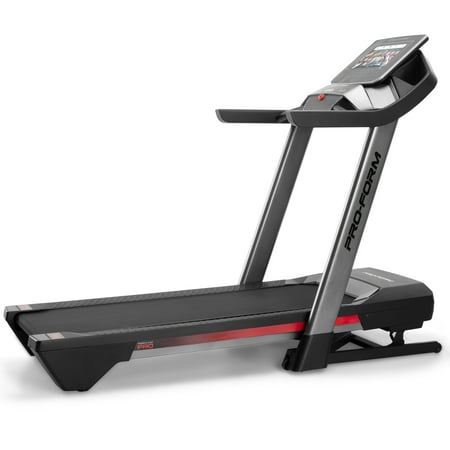 $2,299.99
in stock
as of 26th September 2023 11:43 pm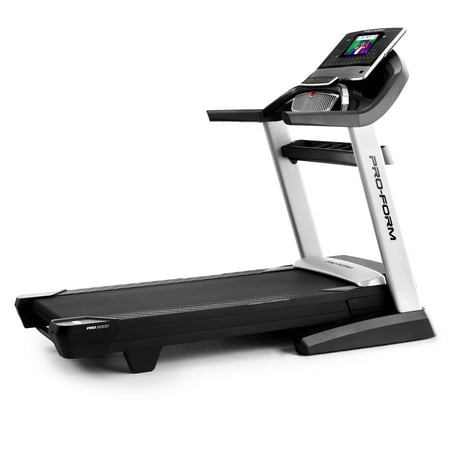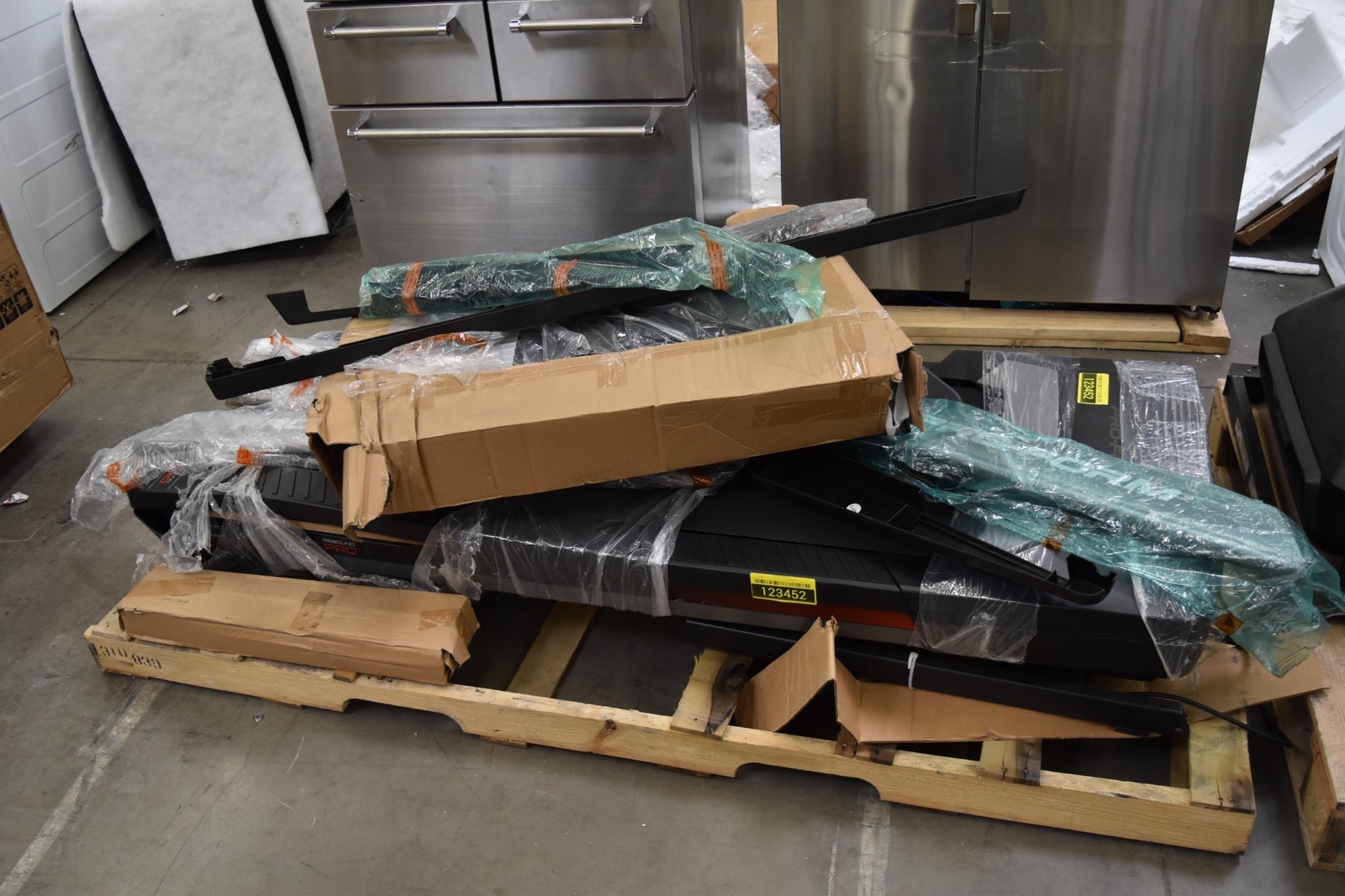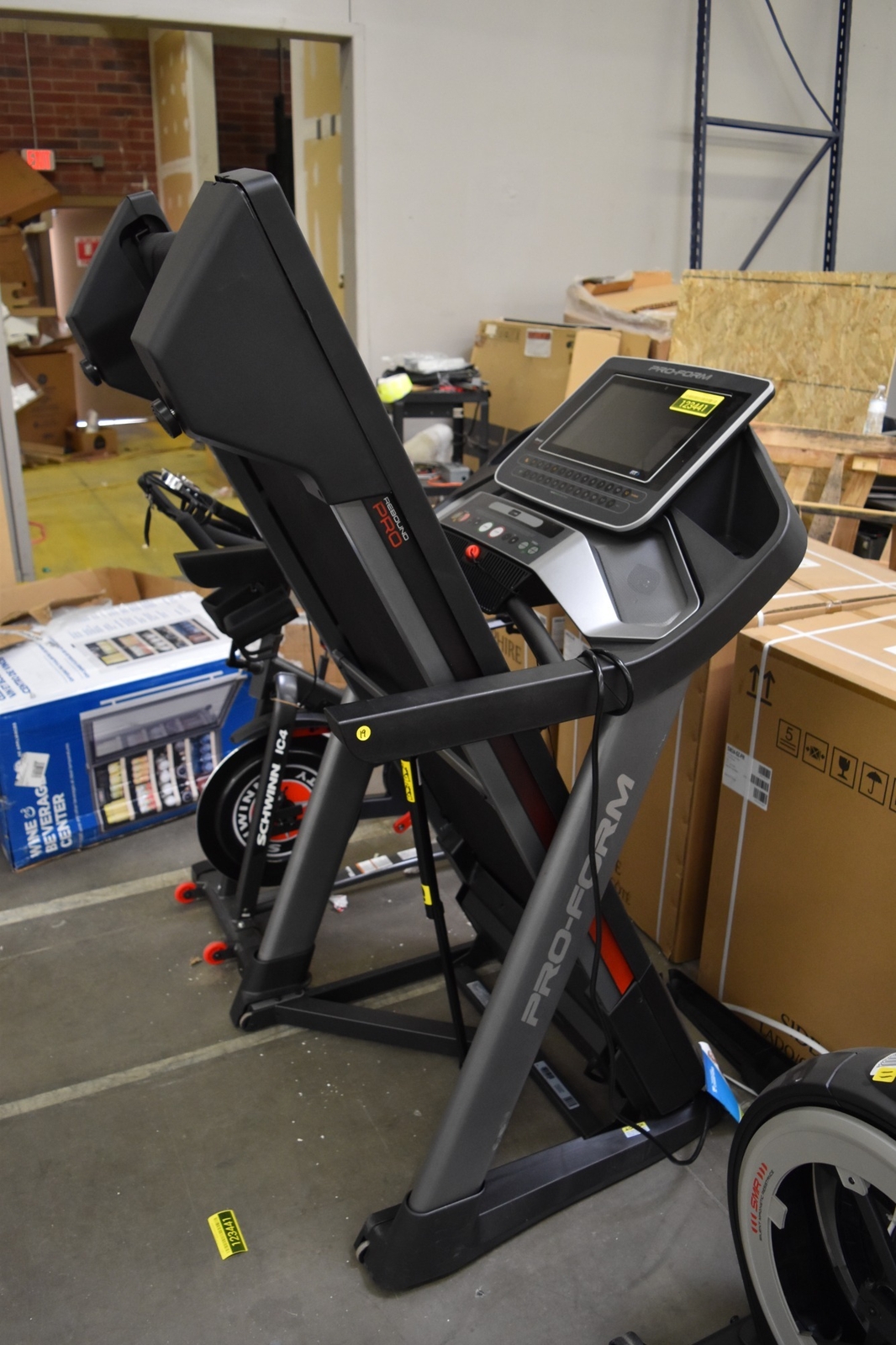 ---
4
Sole F63 Treadmill
Best treadmill Under $1,500
There's no better treadmill for those on a tight budget than the Sole F63.
Packing features you'd expect from machines in the $1,500 – $2,000 price bracket, the F63 punches well above its weight.
With hundreds of positive customer reviews, a lifetime frame and motor warranty, and whisper quiet running deck, the Sole F63 is the best you'll get for under $1,500.
PROS:
A robust and steady gym-quality machine, according to one reviewer who reports being a lifetime runner.
Great speed and incline range.
Quiet while in use.
Easy to operate.
A good range of programs.
Folds away to save space.
CONS:
One reviewer said that they found the assembly to be complicated.
The frame seems to be a little low (even for a user who states they are 5′ 7″).
The fan isn't very powerful, according to one user.
One customer said they received a faulty unit.
Key Features of the Sole F63 Treadmill
Cushion Flex Whisper Running Deck (18 mm deep)
20″ x 60″ running surface
Front and rear rollers for easy transportation
3.0 CHP motor
Top speed: 12 mph
Quick touch keys: Speed and incline
6.5″ backlit LCD: heart rate, speed, pace, calories, message board
Bluetooth: compatible with Sole Fitness App, Health Kit, Fitbit, Record, MapMyFitness, MyFitnessMap, Facebook, Twitter
Integrated sound system: MP3 player compatibility, sound cord for other devices
Stability bar
Accessory tray
Cooling fan
Easy Assist Folding with a Safety Lock Deck
Max. user weight: 325 lbs
Product weight: 287 lbs
Dimensions: 82″ x 35″ x 66″ (L x W x H)
Warranty: Lifetime frame and motor; 3 years on parts and electronics, and 1 year labor
Compare Prices for the Sole F63 Treadmill
$1,657.00
in stock
as of 26th September 2023 11:43 pm
$1,175.00
$1,490.00
Check Stock
2 new from $1,175.00
as of 26th September 2023 11:43 pm
---
5
NordicTrack Commercial 2450
Best Affordable NordicTrack Treadmill
NordicTrack is setting the bar pretty high with fantastic machines at affordable prices. This means that you can easily get a decent treadmill for your home, which feels like gym quality.
We believe the NordicTrack Commercial 2450 is the best NordicTrack treadmill for home use in the US in 2023.
Yes, we know you've already seen a NordicTrack treadmill top our best treadmill list; however, the $3,999 price tag likely puts it out of most people's reach. The more attractive retail price of $2,499 makes the 2450 the best affordable NordicTrack treadmill.
NordicTrack has just updated lots of key aspects for the 2023 version of this treadmill. Such updates include:
The 2450 now comes with an upgraded 14″ Smart HD Touchscreen.
The Automatic Trainer Control has been enhanced.
Graphics Performance has been improved and also added Processor Cooling.
Wi-Fi connectivity is faster thanks to the Dual 2.4 GHz & 5 GHz Wi-Fi Connectivity.
The machine is now quieter when moving between incline settings due to the new Quiet Drive Incline Tech.
The device is compatible with the latest Android 9 operating system.
You can now connect earphones using Bluetooth Headphone Connectivity.
This beast of a treadmill was already fantastic, but with these upgrades, it is now the best NordicTrack treadmill in the US.
PROS:
The 2450 has a large running area, so it is ideal for taller and bigger individuals.
The newer version of this treadmill comes with significant upgrades, such as improved HD graphics, BlueTooth headphone connectivity, and a faster Wi-Fi connection.
It is easy to assemble thanks to the app and online videos.
Most customers were delighted with their purchase and believed this treadmill was worth the price tag.
It's well-built, and some reviewers said it is better than the ones they use at their gym.
CONS:
According to one reviewer, this machine won't work without a Wi-Fi connection. We haven't been able to verify if this is true, but something worth considering.
A few reviewers said that they received the product with missing parts.
Here are some of the key stats so you can see why this machine is so highly rated:
Key Features of the NordicTrack Commercial 2450
Display: 14″ Smart HD Screen
Motor: 4.0 CHP
Top speed: 12 mph/ 22 km/h
Incline: 15%
Decline: -3%
Running area: 22″ x 60″ (55 x 152 cm)
Flex Cushioning
Rollers: 2.5″ precision-machined and balanced non-flex rollers
iFit integrated (most retailers are offering free trial subscriptions of up to 12 months)
Dual 3-inch, digitally amplified speakers
Fans: dual auto breeze
Accessories: tablet/iPad holder
Max. user weight: 300 lbs/ 135 kg
Product weight: 154 kg
Dimensions: 81.25 x 39.25 x 59.25 inches 215 x 90 x 50 cm (L x W x H)
Warranty: Lifetime frame; 10-year motor; 2-year parts and labor (must register within 28 days of purchase)
Compare Prices for the NordicTrack Commercial 2450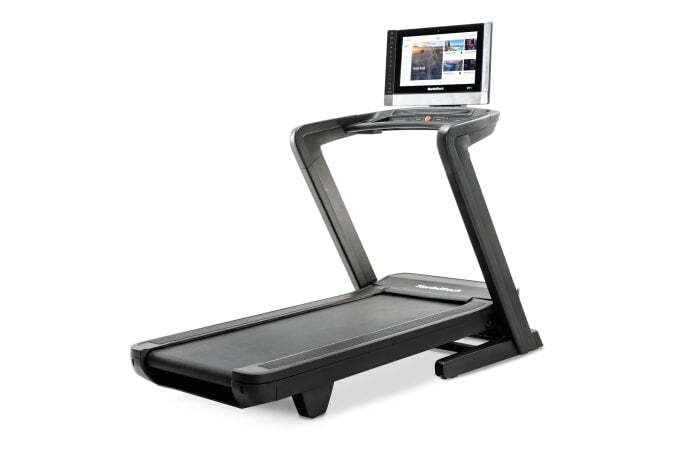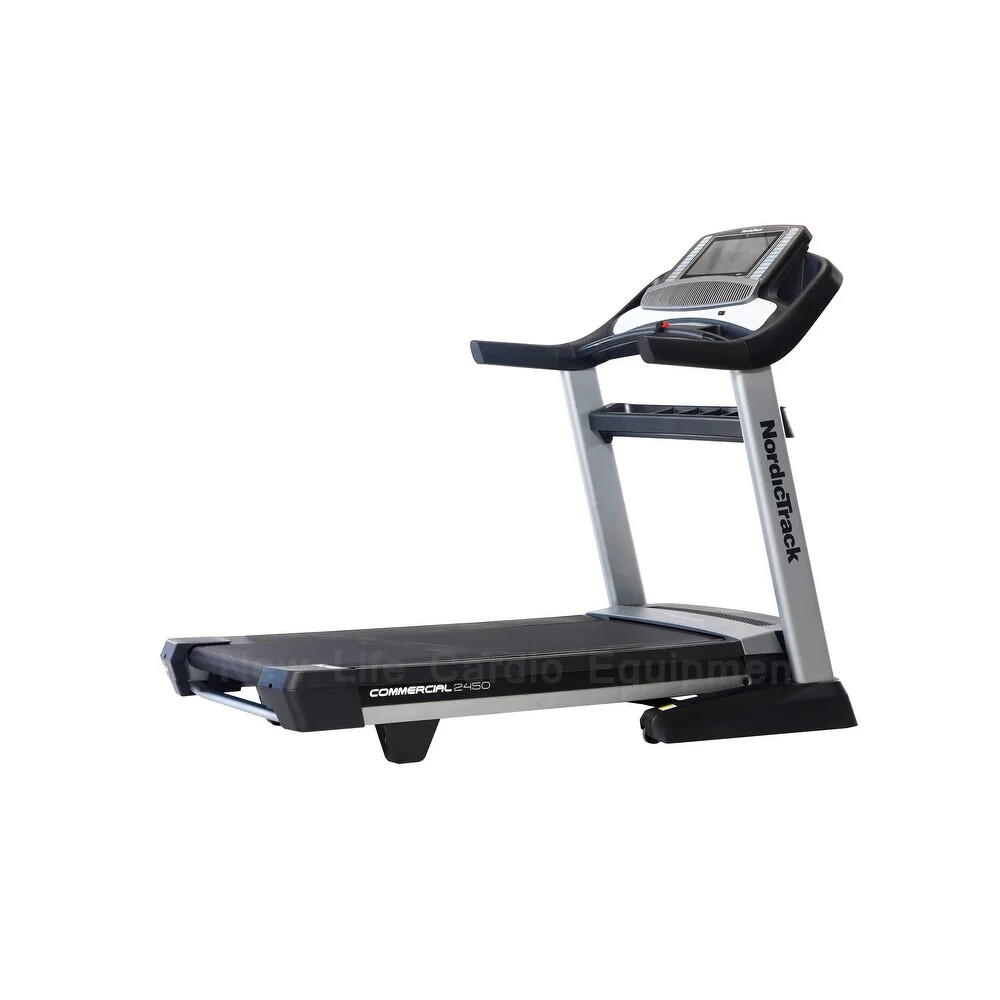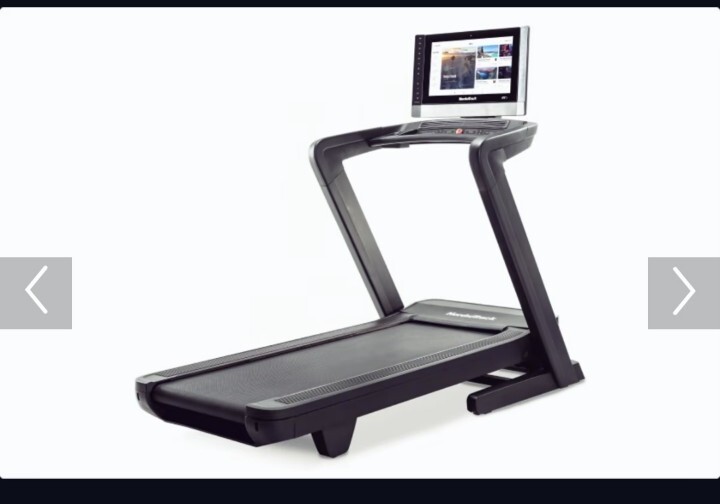 ---
6
XTERRA Fitness TR150 Folding Treadmill
Best Compact & Budget Treadmill
Folding treadmills have become the norm in recent years. The appeal is that they can easily be stored when not in use.
However, the problem is this: If you're using your treadmill regularly, you probably don't want to fold it and unfold it every time you wish to use it.
Therefore, compact treadmills become appealing; a machine that is large enough to work out on but doesn't impose on your living area. Most of these compact treadmills – such as the XTERRA Fitness TR150 also fold away, giving you the best of both worlds.
The features of the TR150 won't blow your mind – and that's because you must compromise some features for compactness. That said, the balance between space-saving and functionality is ideal with the XTERRA TR150.
As well as being the best compact treadmill, the TR150 ranks as the best budget treadmill in our Best Treadmill For Home round-up.
Most of the negative reviews are from people who expect more from this machine than they should. At this price, you cannot expect a super-quiet, professional-quality machine. You get what you pay for, and most customers believe this machine to be excellent value.
PROS:
The XTERRA TR150 is a compact treadmill making it ideal for those with limited space.
The price point makes this running machine accessible to most people.
With nearly 13,000 reviews on Amazon, this treadmill is tried and tested, with mostly positive reviews.
Easy to set up and assemble, according to the majority of customers.
Many customers dismissed the bad reviews by pointing out the budget nature – you're not going to get a professional-quality product at this price – but it does what it needs to do.
CONS:
The incline settings are limited to 3 and must be adjusted manually.
At 50″ long, the running deck will not be large enough for taller people who want to run at high speeds.
Key Features of the XTERRA Fitness TR150 Folding Treadmill
Top speed: 10 mph
Incline: 3 manual settings
Motor: 2.25 HP
Workout programs: 12
Display: 5″ LCD
Dimensions: 63.4 x 28.75 x 51.4 inches (L x W x H)
Max user weight: 250 lbs
Compare Prices for the XTERRA Fitness TR150 Folding Treadmill
$393.78
$437.29
in stock
2 new from $393.78
as of 26th September 2023 11:43 pm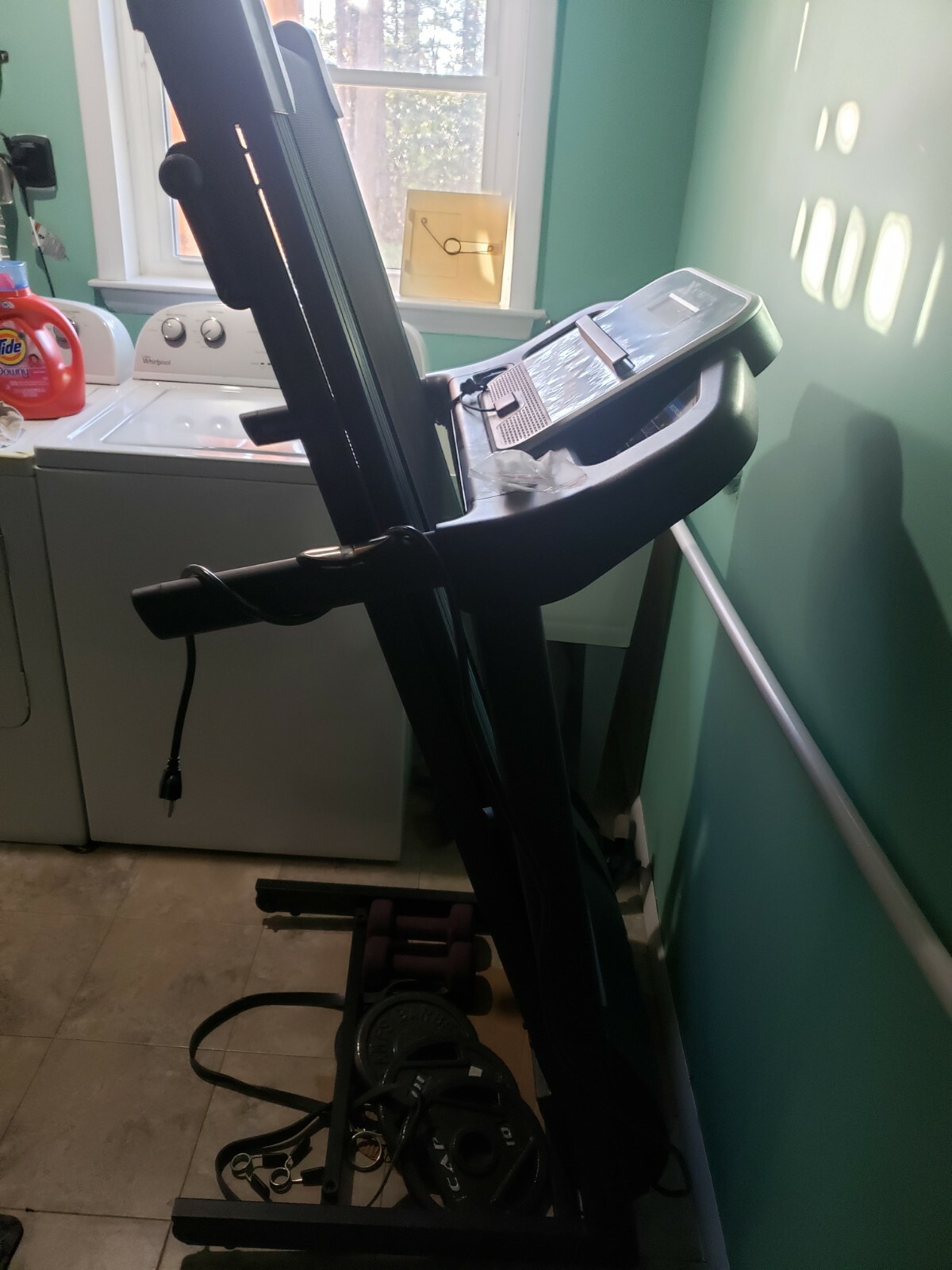 ---
7
ProForm Pro 9000
Previous Best Treadmill – 2022 Winner

The ProForm Pro 9000 was previously rated as the best treadmill in 2022.
When we originally reviewed this running machine, it fell into the sub-$2,000 category. Now that it costs $2,299, we've adjusted our score from 9.6/10 to 9.1/10 because we expect better features.
PROS:
A large proportion of customers said that the machine feels like a commercial-grade cardio machine.
As with most ProForm and NordicTrack products, customers were extremely pleased with the iFit capabilities.
The Proform Pro 9000 has an excellent range of features and has been rated the best treadmill on our website.
The massive 22″ HD Touchscreen was a winner for most buyers – saving them the trouble of attaching their tablet.
The folding mechanism is smooth and safe, making this perfect for those who need to save on space.
It is easy to assemble, so most people should be fine putting it together independently.
CONS:
It might be outside some people's budget.
Customers report that the console must be switched off at the mains.
Key Features of the ProForm Pro 9000 Treadmill
Top Speed: 12 mph
3.6 CHP motor
20″ x 60″ running deck
22″ Smart HD Touchscreen
CoolAire workout fans
1.9″ precision balanced rollers
Incline: -3% to 12%
iPod connectivity and powerful 3-inch speakers.
SpaceSaver design: this treadmill folds away easily to save on space.
Max. user weight: 300 lbs
Product weight: 262 lbs
Warranty: 2 Year parts and labor, 5-year motor (parts only), Lifetime frame guarantee
Compare Prices for the ProForm Pro 9000 Treadmill
$3,199.99
in stock
4 new from $3,199.99
as of 26th September 2023 11:43 pm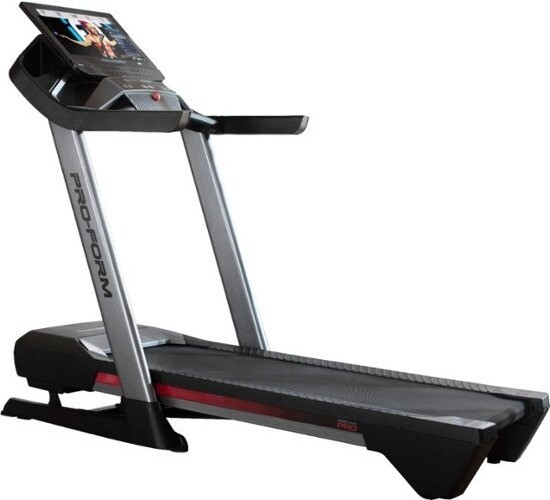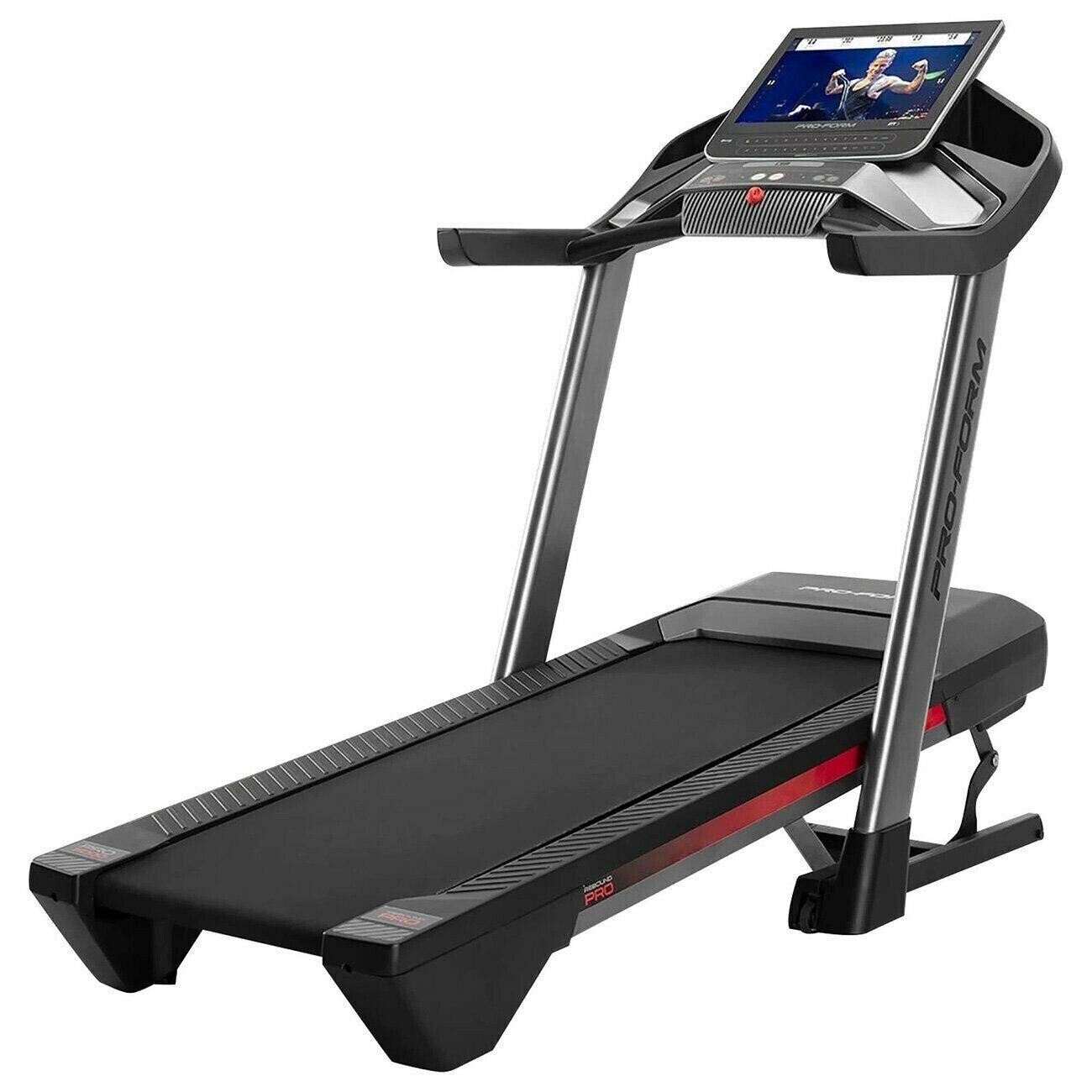 in stock
as of 26th September 2023 11:43 pm
---
What To Look For When Buying a Treadmill
Most treadmills come with similar features – or at least similar attributes which you can compare.
Check out our treadmill buying guide to learn more about what to look for.
Here we've included some of the most important things to consider when buying a treadmill:
Running surface
You should look for a treadmill with a larger running area if you're tall. If you're taller than 6 feet, you should look for a length of at least 55″ for jogging so that you don't run out of space when taking long strides. Up this to the industry standard of 60″ if you plan on running.
Top speed
The lowest top speed in our guide is ten mph, and the highest is 12.5 mph.
If you're planning on running at high speeds, select a treadmill with that in mind. If you're interested in walking rather than running, select a budget option with a smaller running deck, such as the XTERRA TR150.
Motor size
More powerful motors can accommodate larger users at higher speeds and steeper inclines. These motors also tend to last longer.
Be careful, as some retailers report the motor power in HP and others in CHP. HP stands for horsepower, and CHP stands for continuous horsepower.
An HP of 2.0 might relate to the maximum power output. This means it runs at lower levels when walking or jogging. A high CHP is better because the motor constantly runs at this higher rate.
Incline Percentage
You'll want an incline setting for a more challenging workout. The steeper the incline, the more challenging the training will be.
As you might expect, our best incline treadmill has the most significant incline and an additional decline option –  great for varying workouts and intensity.
Our best incline running machine (and the best overall treadmill) is the NordicTrack X32i, with an insane 40% incline level.
Best Treadmill Brands
A few names come up time and time again when considering the best treadmill brands. There is a good reason for this – they are all experienced in manufacturing high-quality treadmills.
Here are some of the top names you might hear:
These are all great brands, and no one brand takes the crown. That said, NordicTrack is starting to set a high standard in treadmills.
---